Hello everyone!! It is Fashion Friday!!! Yay! :) Let's get started!!!
This pretty blue dress has a gorgeous shade of summery blue! I love the lacey crochet pattern. The dress is modest but it is still cool enough for summer! I would wear some white shoes with this dress, either thong sandals, peep-toe flats, or pumps. A colorful shoulder bag, white pearl earrings, and a messy bun would complete the cool yet chic summer feel!!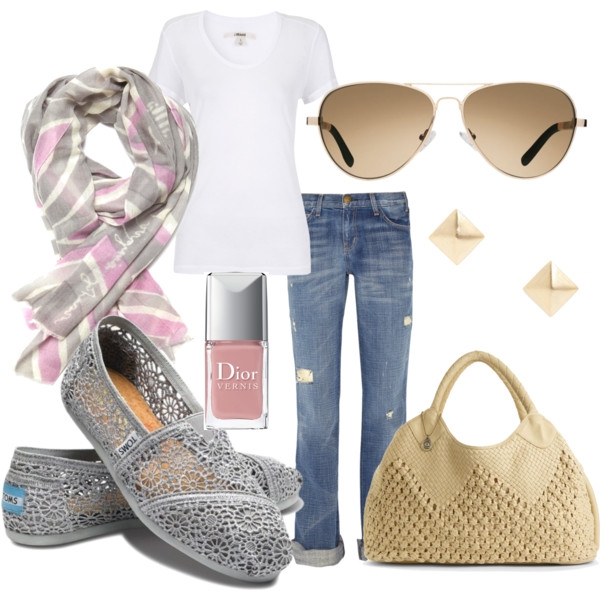 I love this outfit that would be perfect for a night out when it gets cooler at night. It is cute but also casual. Jeans with that many holes are not cool in my book. I love love love Toms!! To brighten up the outfit I would get the Toms in a soft pink shade to match the scarf. I am not a huge fan of the purse, and would much rather just carry the essentials (phone, wallet, etc.) in my pockets. If necessary I would bring a purple wristlet. A smaller pair of earrings would make this the perfect outfit.
These bight pink and orange sandals would add the perfect pop of color to any outfit!! What I love about these sandals is that they feel a bit like flip-flops but are more dressy. I have sandals similar to these and I wear them all the time with white denim shorts and a solid color tee. These also look nice with knee length sundresses.
These infinity scarves would be the perfect accessory to add a little warmth on a cooler day. I would wear these with a flouncy white skirt, solid color tank top with a lighter shade quarter length sleeve cropped cardigan, and flats. These would also add a cute touch to a spaghetti-strap sundress!
These nails are cute, casual and fun!! They are bright and colorful and would brighten any day!!! I would love a manicure like this! A casual but bright sweatshirt, jeans, and Toms would make this manicure pop!!
I hope you enjoyed this week's Fashion Friday! I had lots of fun writing it!!! Check back tomorrow for Saturday Sites!!
~Hannah (the human)